Wednesday, February 17, 2010
This Blogger Template has matching Etsy Banners available also
Click here to view full page
Watermarks will be removed upon installation
Posted by

Julie
at 2:18 PM
No comments:
Links to this post


Here are the latest Etsy Banners I've been working on:
Pastel Ribbons Etsy Banner set with matching Avatar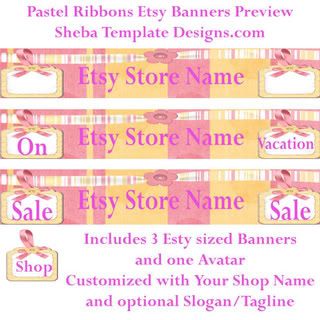 Americana Annie Single Etsy Banner
Country Cabin Single Etsy Banner

Click here to view my Etsy Shop
Posted by

Julie
at 12:45 PM
No comments:
Links to this post


Friday, February 5, 2010
I've been working on a new look for my main website
Sheba Template Designs
, and it's just about finished. This is a Cube Cart store, and I've been very pleased with it. Eventually, I will add Cube Cart Template designs, but not for a few months or so.
Websets, Plugs for Plugboards, Storefront Templates, Clipart,
Etsy Templates, Logo Design, Print Items, Banners, Avatars,
Auction Templates, About Me page Templates
.
Stop by and check it out.
This website Specializes in Template Designs for Small Business owners who want a Chic Sophisticated Modern Look with personalized service you can depend on.
I'm adding the Blogger templates to this site as well.
Blog Template Boutique
is a fun site I've been working on. Templates on this site are designed to work with Blogger only. Stopy by and see what I've been up to.....
New Blogger Templates, Banners and some carefully selected clipart will be added thru the weekend.
Julie
Posted by

Julie
at 8:17 AM
No comments:
Links to this post


Monday, February 1, 2010
Here is the latest Blogger Template Design, the Banner is shown: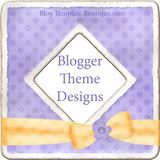 Blue polka dots, bows and peach highlights. This Template can be customized with your Blog Name, and is so cute! Click here:
Blogger Theme Designs
to view full Blogger Template.
Each template can be seen on Blogger, with a unique template name. Add on's are available.
Please check:
Blog Template Boutique
for all the information.
Julie
Posted by

Julie
at 1:48 PM
No comments:
Links to this post