Here is the latest Blogger Template Design, the Banner is shown: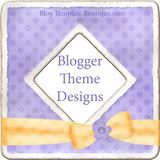 Blue polka dots, bows and peach highlights. This Template can be customized with your Blog Name, and is so cute! Click here:
Blogger Theme Designs
to view full Blogger Template.
Each template can be seen on Blogger, with a unique template name. Add on's are available.
Please check:
Blog Template Boutique
for all the information.
Julie